Round Wire Belting
Here at The Furnace Belt Company, we can provide you with additional round wire belts which are woven differently from the traditional options. Based on your requirements, we can provide the following for your application:
Flat-Flex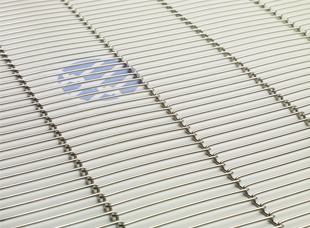 Flat-Flex conveyor belts are USDA accepted and provide maximum flow-through for almost any application in a variety of industries. These belts are also designed to be cleaned in place, allowing for easy maintenance of your conveyor drive. Almost every aspect of the belt such as material, wire diameter, edge finish, width, and design pattern can be customized in order to better suit your needs.
Flat-Flex XT
Providing twice the life of average Flat-Flex belts, the Flat-Flex XT is perfect for your heavy duty applications. It has smaller spaces which results in an increased amount of belt joins across the width of the belt. This makes the belt stronger and more durable. The unique design also allows for superior weight distribution across the belt which greatly reduces belt fatigue.
Additional attachments/accessories for Flat-Flex Belts are also available including:
EZ Splice Joining Strands
Wire Straightening Tools
Wire Cutters
Eye-Flex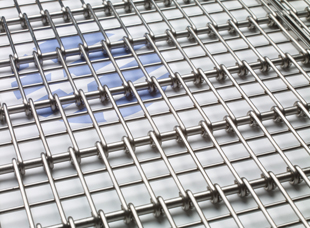 Custom designed with almost unlimited configuration options, these belts are designed for your heavy-duty applications. Enhanced tracking and reliability can be achieved using our various drive choices including friction driven cage rollers, positive drive, and chain edge drive. The belt is also available in a variety of materials and can be configured with side guards and flights. Rings, under welding, or spring spacers can also be added to increase belt strength and make it easier to clean.
Compact Grid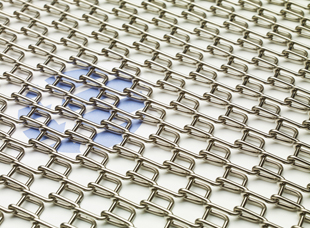 Designed specifically for small products, this belt's 70% open surface area allows for easy cleaning and is effective for flow-through applications. The no-slip positive drive also provides highest standard belt tracking, allowing it to run straight even with heavy loads. A Compact Grid Joining Tool is also available to perfectly crimp and align the belt without damaging surrounding wire strands.
TC-327
This tortilla cooling conveyor is made only from stainless steel and has a 76% open area. This allows for maximum airflow, allowing your products to cool quickly without sticking to the belt.
Flex-Turn Belts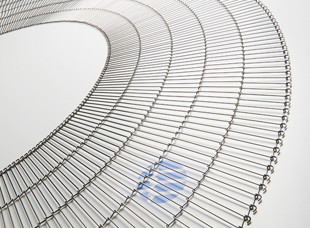 This conveyor belt has the ability to convey products around corners while maintaining their alignment and spacing. It also offers the smallest inside turning radius available today in this style of belting. The width and turning radius of the belt can be configured to fit your application.
Specialty/Custom Belts
We are also able to provide you with belts specifically designed for your complex product handling processes. For instance moving product up or down steep slopes and maintaining separation are processes which require custom-designed belts manufactured to your exact specifications. Please contact us to learn more about Aligned Flat-Flex and Compound Grid belts.
Sani-Grid Belting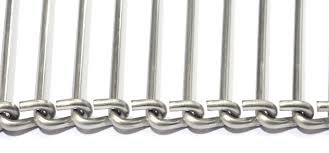 An economical choice for many applications due to its lightweight and open design. This simple design also allows for easy clean up and requires minimum maintenance to meet sanitation needs. This belt can be manufactured with varying widths in many different materials. Also, offset or welded rod flights can be considered for elevating/de-elevating processes. Furthermore, optional U-bar filler rods can be introduced to provide product support and hinge clips can be used to strengthen the belt.
Belt Name
Sizes (inches)
Material
Benefits
Few Applications
Flat-Flex
Wire Diameter:
0.035-0.092

302 stainless steel
316 stainless
Steel
Various carbon steel
HT materials

Largest open mesh area (86%)
No slip
Low belt mass
Small diameter end/drive rolls

Baking
Battering
Cooling
Frying
Freezing
Washing

Eye-Flex
Wire Diameter:
0.07-0.12
Cross Rod Diameter:
0.13-0.31

High temperature materials
Variety of steel specifications

Toughest belt available
Flat surface
Modular design

Loading
Heating
Freezing
Roasting
Cooking

Flat-Flex XT
Wire Diameter:
0.0625-0.082
Mesh Sizes:

42 X .062 (3/8" pitch)
32 X .082 (3/8" pitch)
24 X .072 (1/2" pitch)
32 X .072 (3/8" pitch)

Double the life of standard belts
Clean in place
74% open area
Smooth surface
USDA accepted

Baking
Battering
Shuttling
Transport
Drainage
Searing

Compact Grid
Wire Diameter:
0.063
Belt Thickness:
0.20
Belt Width:
11.9-144

Supports small products
Quick and simple belt joining
No welds
Lightweight
USDA accepted
70% open design

TC-327
Wire Diameter:
0.063
Belt Thickness:
0.20
Belt Width:
11.9-144

Excellent product support
76% open design
USDA accepted

Flex Turn
Belt Width:
10-50
Turning Radius:
16, 32

Gentle handling
Maintains product orientation around turns
Easy to clean

Custom
Various belt flight sizes

Can keep products in separate rows
Can help keep products on belt during incline and decline

Elevating
De-elevating
Sorting
Coating
Washing

Sani-Grid
Wire Diameter:
5, 7, or 9 gauge
Belt Width:
12-36 are most common

Steel
Galvanized steel
Stainless steel

Flat, uniform surface
High strength
Stretch resistant
Positive drive
Smooth edges

Cooking
Cooling
Filling
Icing
Packaging
Inspecting
The above is just an extract from our full range of belting. Please contact our customer service team or technical sales engineers if you have any questions regarding belt weight, speed range etc. or if you want to learn more about our various attachments/accessories.
The following common edge finishes are also available for certain belts mentioned above:
C-Cure
Double Loop
Single Loop
Ladder
In order to find out more about our finishing options, please contact us. We can also provide all drive components for individual belts.